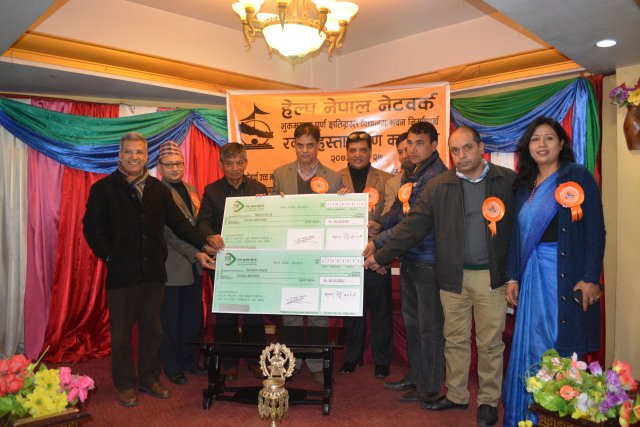 Created Date: January 11, 2017
Author: HeNN
Comment(s): 0
MaHa duo hand over school reconstruction funds
HELP NEPAL Network has undertaken its biggest project till date, to rebuild two schools that were severely damaged in the 2015 earthquake- Rajkuleshwor Lower Secondary School in Dolakha and Thokarpa Secondary School in Sindhupalchowk.
At an event organized on January 11, 2017, MaHa duo (Madan Krishna Shrestha and Hari Bansha Acharya) handed over the first installment of reconstruction funds, a total of NRs. 80 lakhs to local partners, Survivors Nepal (Sindhupalchowk) and Rajhiti Society (Dolakha).
Engineer Bhaskar Shrestha explained the structural plans and architectural designs to the guests. The schools will be constructed with earthquake resistant techniques and will have traditional architecture. Infrastructure plans include construction of multi-purpose halls, an amphitheater, and classrooms that can accommodate as many as 30 students each.
Uttam Pudasaini from Survivors Nepal accepted the fund and said, "Sindhupalchowk was hit badly by the earthquake and the response from the government was slow. People wounded in the earthquake were getting infections. We stepped up and helped as much as we could but it was a difficult time for all of us."
Rabindra Mishra, journalist and HeNN founder, discussed the importance of practical philanthropy in Nepal. "We Nepalis have a make-do mentality that often restricts us and our ambitions. But we have embarked on our biggest project and we want it to be exemplary. It's time we start thinking big and aiming higher," he said.
The funds were collected through an online appeal set up immediately after the earthquake. "A lot of sentiments are attached with this fund. It was collected by Nepalis all over the world and it will be put to good use. The designs look really good, I wish I could attend this school," said chief guest Hari Bansha Acharya.