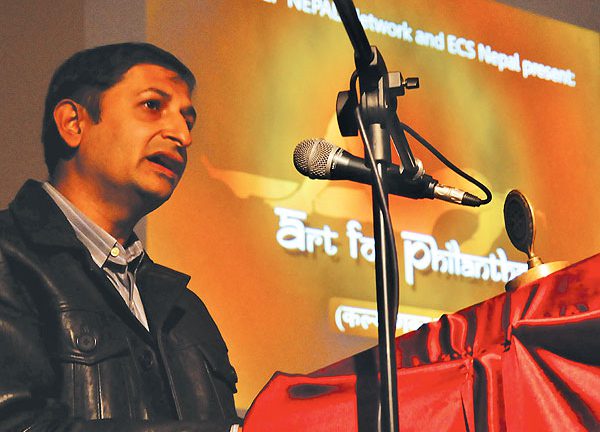 Created Date: December 17, 2011
Author: HeNN
Comment(s): 0
Kapil Dixit's paintings auctioned off for philanthropy, Republica
By PRAJESH SJB RANA
Source: Republica, 22 Dec 2011
Link: http://www.myrepublica.com/portal/index.php?action=news_details&news_id=39866#
There is a painting called "The Birth of Venus" that stands on one corner of the hall at Moksh. It burns red with randomly thrown streaks of paint upon which stands a naked woman, on an oyster shell, with two other women, kneeling, looking up at her.
The painting is an ode to one of the greatest Italian painters of the Early Renaissance, Sandro Botticelli. Inspired by Botticelli's most famous work of the same name, the painting brings certain aspects of the master's original work while retaining some of the painter's own originality.
Art for Philanthropy, an art auction organized by Help Nepal Network and supported by ECS Nepal, auctioned 17 of Kapil Mani Dixit's works on Tuesday.
Kapil, a professional artist with a degree in Fine Arts Art for Philanthropy, an art auction organized by Help Nepal Network and supported by ECS Nepal, auctioned 17 of Kapil Mani Dixit's works.
From the University of Texas, Arlington, showcased his work in tribute to great artists like Frida Kahlo, Pablo Picasso, Edvard Munch, amongst many others.
"I was always interested in painting ever since I was in school. And after I went to America to study art, I got inspired by all these great artists," says Kapil. "I wanted to pay my respect to these artists by painting a tribute to them by taking some of their greatest works and painting in a different style," he added.
Kapil is donating all of the money he makes on the auction to Help Nepal Network which is utilizing the money raised to restructure Adarsha Secondary School in Arghakhanchi.
The program, hosted by Miss Nepal 2002 Malvika Subba, started with a speech by Neeraj Koirala of the supporting magazine ECS Nepal which moved on to a speech by Kapil Mani Dixit, the artist himself, on the theme of his paintings.
The trailer to the much anticipated movie, "Highway," was also screened after Kapil's speech which was then followed by a presentation on the work of Help Nepal Network by founder Rabindra Mishra.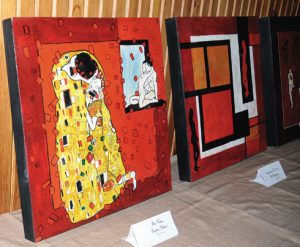 Ex-government official and an executive member of Help Nepal Network, Rameshwor Khanal, also expressed his views on how similar events should be undertaken to develop the underdeveloped areas of the country.
"People need empowerment. Without it, no amount of infrastructure will help. I've seen a lot during my time with the government. I've seen schools that teach without blackboards in different parts of Mugu and Jumla. But Nepalis have a very giving nature, and instead of raising money from other countries, we need to make efforts to raise money amongst ourselves," said Khanal.
After the speech by Khanal, the official auction started, beginning with "The Two Fridas,: a tribute to Mexican painter Frida Kahlo which was bought by Rabindra Mishra. Kiran Shrestha, founder of Nepa-laya, went home with "The Bedroom," a tribute to Vincent Van Gogh. Six other paintings were brought by buyers who wanted to stay anonymous; these paintings were "Composition No. 10," tribute to Peit Mondrain; "Christina's World," a tribute to Andrew Wyeth; "Soup Can," a tribute to Andy Warhol; "Fountain," a tribute to Duchamp; and "The Dance," a tribute to Henri Matisse. Rabindra Mishra went for another painting that his daughter especially liked. It was "'Several Circles," in tribute to Kandinsky; and the last sale of the day was "Dr. Mayer," a tribute to Hermann which was bought by Arun Singh Bista, President of Help Nepal Network.
"I've always been a huge fan of Van Gogh," says Kiran Shrestha. "We need to support art and events like these. I'm glad that I could support the artist and Help Nepal Network. Kapil Mani Dixit's paintings are very interesting and my love for Van Gogh's work also kicked in," he added.
The evening came to a close with a final speech of thanks by Help Nepal Network President Arun Singh Basnet. All of Kapil's painting were acrylic on board and went for Rs. 25,000 each.
"Kapil has always been a close friend of mine and I've always loved his work. I just feel nice that he's doing all this for a just cause. I appreciate the artist's skill and I love the concept of works reflecting international art," said visual artist Kurchi Dasgupta.
After selling nine of Kapil's paintings, host Malvika Subba looked pleased. "I feel very good and happy today because I know that every paisa made today will go to less privileged children," she said.