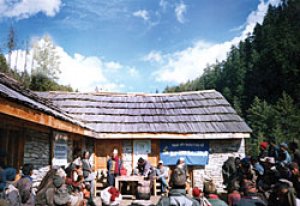 Created Date: October 15, 2009
Author: HeNN
Comment(s): 0
Inspiration, Inc., Nepali Times
Source: Nepali Times, Kathmandu, 09-15 October 2009
http://www.nepalitimes.com.np/issue/2009/10/9/Business/16364
SUVAYU DEV PANT
In 1999, BBC journalist Rabindra Mishra approached philanthropist Arun Singh Basnet with an idea: to set up an organisation that would connect the swelling numbers of Non-Resident Nepalis (NRNs) worldwide and enable them to help their less fortunate compatriots at home. Ten years later, Help Nepal Nework (HeNN) is flourishing, having raised over Rs 60 million to help thousands of poor Nepalis.
"Everyone, especially those of us living abroad, wanted to do something to help Nepal, but nobody really knew how. The point of HeNN was to connect like-minded Nepalis so they could take action," says Basnet, now president of the charity's Nepal chapter.
The organisation is run by a motley crew of professionals, most of whom live abroad but share a deep concern for Nepal. HeNN focuses on education and health and has started a campaign to help Conflict Impacted Children (CIC), or children uprooted by the civil war.
At its inception, HeNN had two chapters in London and Kathmandu. It started small, collecting about Rs 80,000 from NRNs to set up a school in Dolpa. But the organisation and the scale of the projects it has undertaken have ballooned since. HeNN has raised Rs 8 million to build an orphanage in Dhulikhel for CICs. It's joined forces with the local community, which has granted HeNN a sizeable plot of land, and a renowned engineering group which will offer its services for free.
HeNN has also built 12 of a planned 75 e-libraries – essentially a network of computers that hosts books and study materials – in select schools across the country. The e-libraries cost 75 per cent less than conventional libraries since they require only one server to connect each batch of computer stations.
As the organisation has grown, HeNN has roped in more Nepalis worldwide. Starting with 2 chapters, it now boasts 12, and 5 of these – in Nepal, Australia, the UK, the US and Sweden – are officially registered charities with their respective governments. Two more chapters are set to open in Qatar and Japan.
But more remarkable even than the scale of HeNN's projects is the manner in which they're financed. Unusually for a charity, not one penny of charitable donations goes on the organisation's overhead and administrative costs. Mishra concedes that the policy, although appropriate, makes the organisation difficult to manage, but says HeNN has made headway in establishing a separate administrative fund to which 25 Nepalis have already contributed over $100,000. And more is on the way. Kush Kumar Joshi, President of the Federation of the Nepalese Chambers of Commerce, was so impressed by HeNN's work he's promised to raise an additional $130,000.
The group faces other challenges, particularly in monitoring completed projects so they don't stagnate and unravel. "Monitoring requires us to send people frequently to remote parts of the country to check on these projects, which is difficult," says Basnet. But the organisation has become astute in involving local communities in the management of these projects, which means for the most part they can operate autonomously.
HeNN's success has inspired individual Nepalis worldwide to pick up the baton and do extraordinary things to help the country. In the past three years, young Nepalis in the US and the UK have run marathons to raise funds for HeNN to run health posts across the country. Others have put on music events to raise awareness or diligently collected money for particular projects. All of them, it seems, have heard HeNN's call for help. Or as Mishra puts it, "If we don't, who will?"
To make a contribution, visit www.helpnepal.net