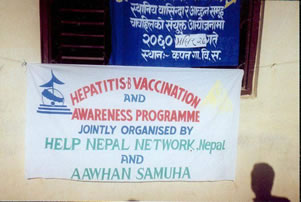 Created Date: July 19, 2003
Author: HeNN
Comment(s): 0
Hepatitis B Vaccination Camp, Kathmandu
PROJECT:
Hepatitis B Vaccination Camp
LOCATION:
Kapan village, Kathmandu
PARTNER:
Aawhan Samuha, Chabahil
COST:
£600
TIME:
July 2003
PROJECT DESCRIPTION:
In collaboration with Aawhan Samuha, Chabahil, on June 14 2003, HELP Nepal Network – Nepal began a 3-stage Hepatitis-B vaccination programme at a school in Kapan village.
115 children were vaccinated in this first stage. HeNN's donation of £600 covered two-thirds of the total cost with the rest borne by Aawhan Samuha.