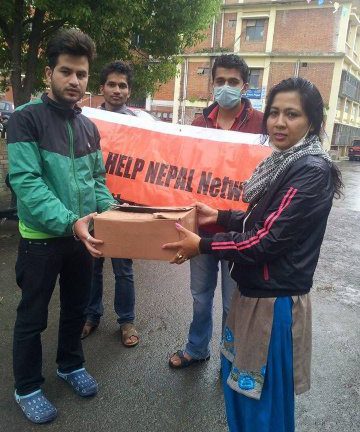 Created Date: April 30, 2015
Author: HeNN
Comment(s): 0
HeNN's Earthquake Relief Effort Update (April 30, 2015)
Dear Help Nepal Network members and supporters worldwide,
As of now, we have raised approximately US $185,000 in HNN's Earthquake Relief Fund (based on fundraising in the United States, United Kingdom and Australia). Fundraising efforts are also being initiated in other parts of the world.
HNN USA wired US $35,000 to our Nepal team yesterday as the first installment, with additional amounts to follow shortly (currently being transferred from our PayPal account). Despite certain public announcements, we currently do not believe that the Nepal Government will interfere with the transfer of these funds.
Our 7-person Nepal team has been quickly and spontaneously mobilizing and supporting a team of 30-40 volunteers each day in areas that have the most urgent need, often in collaboration with other organizations on the ground.
Over the past two days, our Nepal team has:
1) Procured and deployed 200 tents in Gorkha, in collaboration with 21 medical professionals from the BPKHS medical school in Dharan and the American Nepal Medical Foundation. Due to a shortage of tents in the market in Kathmandu, our team traveled to Chitwon to procure the tents. Some photos attached.
2) Deployed 2 truck-loads of food in Nuwakot (approximately 200 sacks of rice, 10 sacks of lentils, 2 sacks of salt).
3) Deployed water purification pills, antiseptic soap, medication (antibiotics, flu medicine, analgesics, etc.) and other supplies in Sankhu and the surrounding areas.
4) Deployed food (2 quintals of dry beaten rice and other dry food) and medication (similar items as above) in Bhotechaur in Sindhupalchowk. Deployment of the next lot will take place tomorrow.
5) Due to a severe shortage of tents in the market now, our team organized a demonstration of how to build makeshift shelters from plastic rolls (available in the market) by a Major in the Nepal Army who has experience with relief efforts in Sudan. These makeshift shelters will be deployed to fill the current vacuum in the market for tents. Tents are severely in shortage in Nepal right now. Anyone who can send tents to Nepal, please coordinate with our Nepal team (contact information below).
The focus of our initiatives in Nepal continues to be emergency relief. Please trust that everyone is doing their best and working as hard as possible.
If you are a volunteer looking to help, please contact our volunteer coordinator in Nepal, Roshendra Khadka: Mobile Phone: +977-9849143465 Email: roshendra@gmail.com
We are extremely grateful for everyone's support. If you have any suggestions, please respond to this email.
Thank you.
On behalf of HELP NEPAL Network,
Abhaya Shrestha