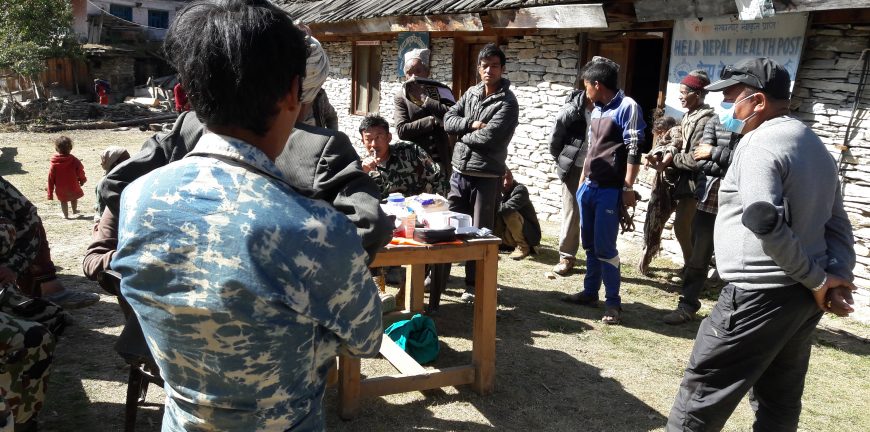 Created Date: January 01, 2016
Author: HELP NEPAL Network
Comment(s): 0
HELP NEPAL Health Post
HELP NEPAL Health Post was constructed in Murma village, Mugu in 2004. The total cost of the project came to around US$ 14,000 of which 50% came as an in-kind support from the local community. This included land, construction materials and labour costs.  Murma Top Youth Club is the main partner for this project.
Daily operations of the health post is supervised by the village committee with monthly reports submitted to both the local government as well as HeNN. Apart from the Everest Marathon Fund, various other organizations and individuals have provided support to help run the health post.
Health camps are also organized in the area from time to time. Health Care Nepal, a charity based in the USA, has conducted various health camps and distributed medicine free of cost.
Similarly, Himal Dental Hopital, Friends of Santa Bhawan, and National Fertility Care Centre have helped Assistant Health Workers and Auxiliary Nurse Midwives obtain trainings on dental care and treatment, laboratory procedures and reproductive health. Save the Children has also provided funds to establish a birthing center along with the essential Safe Birth Attendant (SBA) training. 
Abhaya Shrestha, the President of HELP NEPAL Network USA, visited the health post in 2011 and wrote an article in the Nepali Times, a well respected English weekly published from Kathmandu, about Birkha Bahadur Rokaya, who was instrumental in establishing the health post. You can read Shrestha's article here: https://helpnepal.net/story/birkha-dais-clinic-nepali-times
WHAT OTHERS SAID:
Dr. Sandesh Paudyel (District Health Officer in Mugu) visited the health post on several occasions and praised the location and the service it is providing. He also appreciated the local staff and the community spirit.
Mr. Yagya Raj Pant, an Education Officer, working with the United Mission to Nepal, visited the health post while on a trip to Mugu for his official work. He said the health post was doing very well.