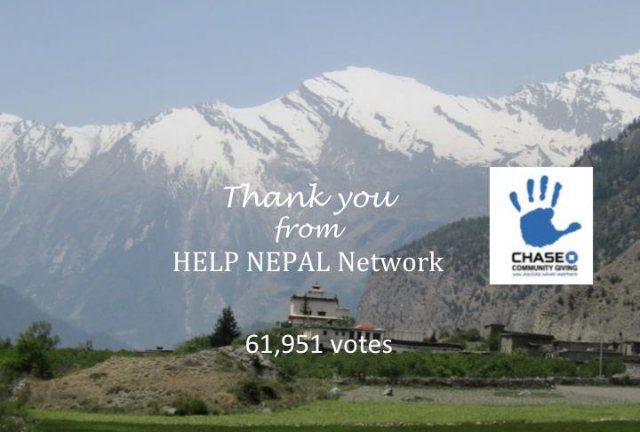 Created Date: July 18, 2012
Author: HeNN
Comment(s): 0
HeNN wins US$ 100,000 in Global Contest
The HELP NEPAL Network (HeNN) secured a second place in the fortnight-long Chase Community Giving Contest and won US $100,000 following an outpouring of support from Nepalis and well wishers all over the world.
The HeNN USA had applied for the participation at the global charity contest participated by 7,000 charities. People worldwide could vote via facebook in support of a bid of a charity of their choice.
The charity receiving the most number of votes would win $250,000 while the rest of the 195 charities with most number of votes would share the pot of $5 million on offer from the US-based charity, Chase. They would receive grants ranging from $10,000 to $100,000.
The HeNN with over 61,000 votes was firmly on second position behind only an Egyptian charity.
Mr. Abhaya Shrestha, president of HeNN USA, said, "We are grateful for all the voters and thank them for their patience throughout the fortnight-long campaign. They have helped some of the poorest and most needy people of Nepal who will now be getting chance for decent education and health service because of their support."
"The HeNN chapters all over the world, our supporters and well-wishers deserve a big round of applause for this unprecedented success in Nepal's fund-raising history. This is probably the first time in Nepal that we were able to so successfully mobilize social media for social good," he added.
"We are absolutely delighted at the overwhelming support from our well wishers. We look forward to receiving the prize and utilizing it to build schools, libraries and health posts in remote corners of the country," said Help Nepal President Mr. Arun Singh Basnet.
The HeNN believes that the love and desire to help the poor and needy people of Nepal galvanized Nepalis and well-wishers to come together.
Beyond Expectation
When the HeNN applied for the global contest, it had expected to receive around 15,000 votes and be eligible for modest win of $25,000.
That money would have been used to build a couple of schools.
But when the voting closed on 19 September 2012, it had received 61,951 votes defeating all others except one in a global contest participated by over 7000 charities.
Facebook, twitter and emails were used extensively to request people to vote online for HeNN.
As it appeared that HeNN was firmly on track to win $100,000, it also appealed people to vote for two other Nepali charity organizations, GMIN and Nyaya Health. And, thankfully, both of them were able to maintain their position within the Top 10,
which ensured each of them the grant of $100,000, as well. Both of them had received around 20,000 votes each.