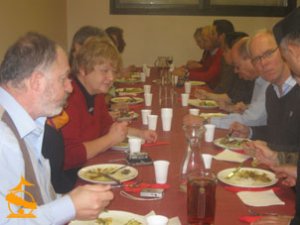 Created Date: November 29, 2009
Author: HeNN
Comment(s): 0
HeNN Sweden Organises Nepali Food Festival
Help Nepal Network (HeNN) Sweden Chapter organised the first-ever "Nepali Food Festival-2009" on 28th November, 2009.
The food festival, organised at Helsingörsgatan 18, Kista, Stockholm, showcased different Nepalese food specialities.
Expatriate Nepalese living in Sweden, local Swedish nationals as well as friends of Nepal from different countries working in Stockholm took part in the event. Nepali three-course meal was served on the occasion. Pakauda, Momo and Nepali Dal Bhat were main attractions of the food festival.
Shailesh Upadhyaya, Vice president of HeNN- Sweden Chapter, made a short presentation about Nepali food and culture on the occasion while president of HeNN Sweden, Brijesh Mainali, spoke about HeNN's objectives and achievements so far.
The programme was followed by a video documentary showing Nepal's natural and cultural heritage.
Over 8,300 Swedish Kroner was raised through the event. Some well-wishers of HeNN-Sweden, who could not participate in the event, had also made contributions to the event.
"The money will soon be sent to the HeNN-basket fund," said Mainali.
"We plan to organise similar events in future so as to promote Nepali food and culture in Sweden at the same time raising funds for a number of charitable causes," he added.