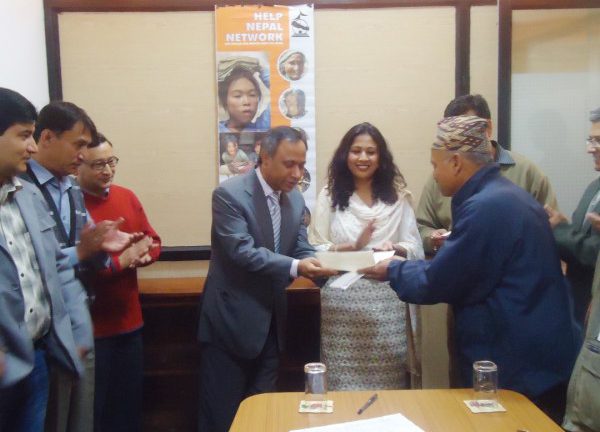 Created Date: November 14, 2010
Author: HeNN
Comment(s): 0
HeNN Supports Schools in Mohattari, Bardiya
14 November 2010: HELP NEPAL Network (HeNN) has decided to support two new schools in Mahottari and Baridya districts.
The Janata Higher Secondary School in Mahottari (https://helpnepal.net/project/construction-school-building-janata-school-mahottari) planned to construct a building to run computer classes. With the help of School Management Committee and Village Development Committee, the school started the construction but the project could not be completed. Hence, they approached HeNN to complete the building.
HeNN will be providing USD 4225.35 in three installments and the rest of the money will be managed by the local community itself.
The first installment of USD 1,400 was handed over to the Principal of the school on 14 November 2010 at the HeNN Office in Kathmandu by Dr Upendra Mahato from HeNN Russia.
On the occassion, Dr Mahato also handed over the same amount to the Principal of Jagadamba Higher Secondary School in Bardiya (https://helpnepal.net/project/construction-library-jagadamba-school-bardiya).
Jagadamba School, which is also a resource center for 18 community schools in different village development committees of Bardiya, had planned to establish well-equipped two-room library building for which CIT (Center for Information Technology) had helped to construct the foundation However, the construction stopped due to lack of funds and the school approached HeNN.
HeNN has decided to provide USD 4,225.35 in three installments.
While handing over the money to two schools, Dr Mahato, the founder president of Non-Resident Nepali Association, said he would add around USD 1,400 each personally to both the schools if the they demonstrated sincerity and commitment towards their work.