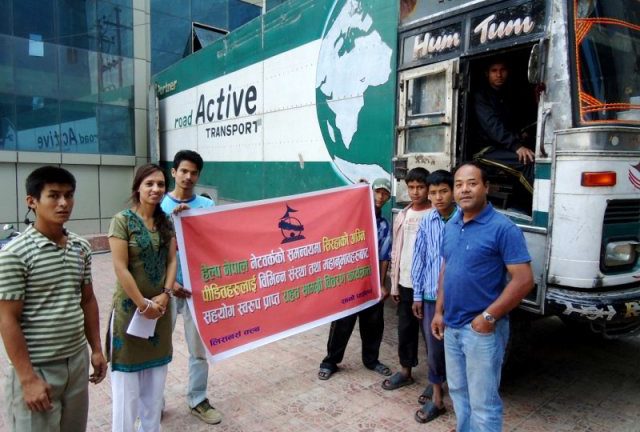 Created Date: May 15, 2015
Author: HeNN
Comment(s): 0
HeNN Stops Endowment Fund Collection Drive
15 May 2015: HELP NEPAL Network has stopped its ambitious 100 million rupee's Charitable Endowment Fund campaign following the devastating earthquake in April.
The purpose of the Endowment Fund appeal was different as explained below. After the earthquake we felt that it would not be logical to raise funds for the Endowment Fund as well as earthquake relief efforts.
We had raised nearly 60 million rupees (interest included) out of the 100 million we had aimed for. We would like to thank all the generous donors from around the world for this ambitious initiative. We will certainly let you know if we want to re-start the campaign in the future.
Please find below the appeal we had made when we started the campaign nearly 2 years ago:
Appeal for Rs 100m Charitable Endowment Fund
In an effort to establish a charitable endowment fund for the Nepalis and by the Nepalis, the HELP NEPAL Network (HeNN) has kicked off an ambitious campaign to raise Rs 100 million through appeals on social media.
In the past, the HeNN has carried out a number of remarkable projects by collecting tens of millions of rupees from Nepalis.
Based on its proven track record, the HeNN is confident that it will be able to raise the charitable endowment fund of Rs 100 million.
In just over one and a half years of its inauguration, the HeNN has already received donations amounting to over 50.80 million rupees.
In fact, apart from the objective of raising the required amount, the HeNN also has another important objective connected with this venture.
The HeNN wants to prove how much can be done if Nepalis come together.
The confidence behind this venture is the belief that there will be enough Nepalis who are willing to donate to raise this fund.
Donation of Rs 1 lakh each by 1,000 Nepalis or Rs 50,000 by 2,000 Nepalis or even Rs 1,000 by 100,000 Nepalis does not seem too far-fetched.
The past experience of fund-raising by the HeNN shows that there are a large number of Nepalis with big heart.
The continued support to the HELP NEPAL Network by renowned personalities like Madan Krishna Shrestha, Haribansh Aharya, Rameshwore Khanal, Jeeva Lamichhane and Dr Upendra Mahato has added to the prestige and image of the Network.
If you need further information about the campaign please call HELP NEPAL Network-Nepal's President Arun Singh Basnet on 98510 70860 or HELP NEPAL Network's Founder President Rabindra Mishra on 9851112720 before 12 noon Nepal time.
The Appeal
It is with this confidence that HeNN is appealing to Nepalis living all over the world who love their country and countrymen and who want to play their part to help them. If this message is circulated to hundreds of thousands of Nepali facebook users, it will increase the possibility of reaching the goal at the soonest.
The HELP NEPAL Network is the largest charitable network of Nepalis living abroad. It doesn't seek support from foreign donors, but from Nepalis living all over the world and use them to provide educational, health-related and emergency/disaster relief services to people in villages. The HeNN slogan is 'Nepalis for Nepal'.
This slogan has been chosen because the HeNN wishes to ingrain the spirit of philanthropy among Nepali individuals and institutions.
The HeNN does not spend even a penny on administrative purposes from the funds raised for charity. It has established a separate fund for administrative purpose which has Rs 7 million donated by 25 Nepali individuals from various parts of the world and Rs 10 million donated by Kathmandu-based Nepali entrepreneur Siddhartha Rana. The interest from that amount is being used to service its administration.
What Has HeNN Done?
The HeNN has been able to build over 40 schools, and over 40 libraries. In 2015, it started an orphanage in Dhulikhel with 10 children. We aim to increase that number to 30. This orphanage has been built at the cost of tens of millions of rupees if the worth of land donated is also calculated. The Network is running a health post in remote Murma village in Mugu district and is building another health post in Siraha district. The HeNN mobilized support from the members of the public to help cold-wave and fire victims of Terai in recent times. It has already collected over Rs 1 million to help Chepang community of Kanda village in Chitwan district.
Objective of Endowment Fund and 'Philanthropic Monument'
In order to give continuity to all these good efforts, to expand them, to be able help the genuinely need quickly and, moreover, to ingrain the spirit of charity among Nepalis, the HeNN has set the ambitious goal of establishing Rs 100 million fund.
The HeNN hopes that someday some generous Nepali will come forward and provide a building where the HELP NEPAL Network office can shift to from its present rented location. It also hopes that someday a generous donor will also help us build a 'Philanthropic Monument' in the garden of that building. And around that Monument will be engraved the names of all those Nepalis who helped in setting up the Rs 100m Charitable Endowment Fund. That Monument will be a symbol of how a Nepali can help his/her compatriot.
Once Nepalis from all caste, community, lingual and ethnic group come together and demonstrate their generosity for their fellow countrymen, the beauty of that Philanthropic Monument will increase by many fold. And it will certainly promote and inspire the spirit of charity among all Nepalis.
How Can You Support?
If you have a valid international bank card, you can make a donation through the secured Paypal link that appears under the picture above on this page. If you want to directly deposit in or transfer the money to HeNN bank, below are the details.
A/C Name: Help Nepal Network.
A/C No: 3501017500185.
Swift Code: NARBNPKA.
Bank Address: Nabil Bank Limited, Chabahil, Kathmandu, Nepal.