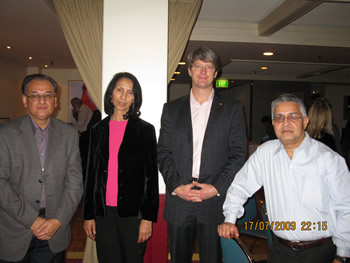 Created Date: July 18, 2009
Author: HeNN
Comment(s): 0
HeNN Australia Fundraising Night in Sydney
July 2009: HELP NEPAL Network Australia (HeNN Australia), Sydney, organised a Fund Raising Dinner on Saturday, the 18th of July at the NSW Leagues Club, Phillip Street, Sydney, as part of its annual International Fund-Raising efforts.
This year, the event was organised in partnership with The Centre for Learning and Children's Right Incorporated (CLCR), a non-profit organisation, which is running Heartland Children's Academy in Kathmandu.
The Network will use the proceeds from this year's event towards organising a health camp in Nepal to treat women suffering from uterine prolapse. CLCR, on the other hand, will utilize the funds raised for its various school projects.
The Nepalese Ambassador to Australia, Mr Yogendra Dhakal, attended the dinner along with Mr Lincoln Hall, a veteran mountaineer who was the Guest Speaker on the occasion.
Harsha Gautam highlighted the achievements of HeNN, particularly the projects under taken by HeNN Australia.
Anna Richardson stressed the importance of providing quality education to the children of Nepal and CLCR's efforts to achieve it.
Lincoln Hall's presentation on the climbing of Mt Everest was interesting. His near death experience on the slopes of Mt Everest reminded everybody about the fragility of human life.
Tara Shrestha presented a vote of thanks to all those involved to make this event a success. He noted that the success of the event was possible only through the collective efforts of dedicated volunteers that silently toil for the benefit of a larger community.
A total of A$5,560 dollars was raised which will be shared by HELP NEPAL Network and CLCR.