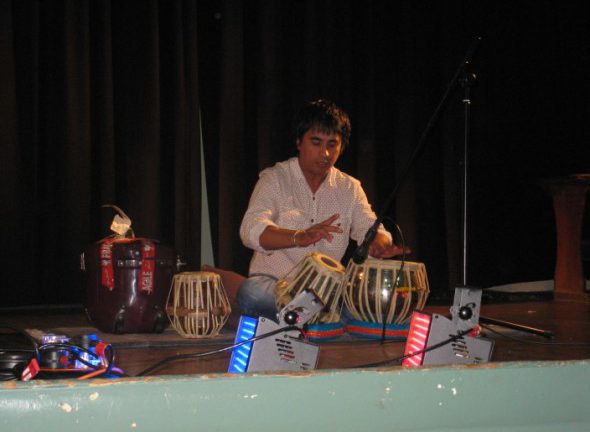 Created Date: March 06, 2011
Author: HeNN
Comment(s): 0
HeNN Australia Fund Raising Event in Sydney
Help Nepal Network (HeNN) Australia, Sydney, organised a fund raising dinner with music and dance in partnership with The Centre for Learning and Children's Right (CLCR) on 5 March at the Balmain Town Hall.
The proceeds from this year's event will go towards construction of a library building at Panchase Danda in Parbat District. The estimated cost of the building is A$10,000, which is jointly funded by NRNA Australia, Community Group (TSS) and HELP NEPAL Network (HENN) Australia.
The Guest Speaker of the evening was Dr Vivienne Kondos. She shared her experience about Nepal and expressed her full confidence about the state of Nepal and resilience of her people that they will be able to pull through this current political impasse and will emerge as a successful democratic state. She mentioned that Nepali diaspora in Australia were quite competent and had developed skills in variety of fields and will be able to contribute to build a modern Nepal.
Harsha Gautam from HeNN Australia highlighted the successful completion of health camp in Rumjatar Hospital for surgical operation of the women suffering from uterine prolapse. HeNN Australia financially contributed to the operation of 15 women out of total 47 operations, the single largest donor of the Camp.
Similarly Patrick Price from CLCR stressed the importance of providing quality education to the children in Nepal particularly to the girls from lower spectrum of the society.
Saleena Shrestha presented vote of thanks to all those who put so much of their efforts to make this event a success.
Dhrub Subedi, President of NRNA Australia, Deb Gurung, President of TSS, were among the many supporters of HeNN who were treated to a rare treat of the haunting beats of the tabla by Tabla Virtuoso Dheeraj Shrestha. The audience were enthralled and captivated by the sound of tabla and how a tabla could speak, mimic a train and create sounds that we could only imagine.
The evening was a great success. HeNN Australia is especially thankful to Neelam Pradhananga, Indra Ban, Tara Shrestha, Rachana Gautam and Saleena Shrestha who put their enormous time and effort to give a professional touch to every detail. Thanks also goes to Gitanjali Pradhananga for her professional performance as MC and dancers Sima Chhetri, Super Gurung and Bona Rai for their magnificent stage performance.
HeNN Australia would also like to thank partners of the event from CLCR, Robert Phillip, Chris Price, Patrick Price and Rebecca for their personal commitment and dedication for a common cause to make a difference to the lives of unprivileged children of Nepal.
Surendra Manandhar from Mandala Traders made a generous donation and HeNN Australia is very grateful to him.
Finally, thanks also goes to all supporters and donors who attended the function despite other attractive entertainment programmes going on in Sydney.
If you would still like to make a donation, please find the details below:
The cheques can be made payable to:
HELP NEPAL Network Australia
Commonwealth Bank
BSB: 062 000
A/C #: 11660078
For further information please contact:
Harsha Gautam 0415537 971
Tara Shrestha 0417284491