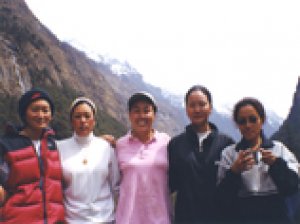 Created Date: October 02, 2005
Author: HeNN
Comment(s): 0
Help Nepal International Day 2005
The USA
HeNN-USA celebrated Help Nepal International Day at the First Parish of Bedford on 2 nd October, 2005, amid various programs.
The program started with Pancha Kanya (Mahika Pandey, Isha Singh, Aneka Pradhan, Bishaka Bhattarai, Eyasha Pandey), welcoming the guests.
The Bhai Bahini program was inaugurated by lightening up of Panas by the Pancha Kanya followed by Jayshree Balarajamani's classical Indian Dances (Bharat Natyam).
Shusila Shrestha sang a bhajan. Shailesh Gongal , the Chairman of the HeNN USA , highlighted on double pronged approach to our CIC and Bhai Bahini Program.
Screening of HeNN documentary was well received by the audience. Erica Pandey, 10, made an excellent case, explaining why the children abroad should support Nepali children.
Bijaya Pandey danced Nepali dance. Ishwar Khatiwada, Prassanna Dhungel, and Ujjwal Shrestha sang folk songs.
Muna Joshi coordinated the program and her team prepared 9 course authentic home made dinner for the guests. Sheela Manandhar made momos.
The program was anchored by Anup Siwakoti and Dipti Dhungel.
HeNN USA is thankful to:
Manisha Bhattarai , Mamta Adhikari, Anuradha Tuladhar, Sanjeeb Tuladhar, Rudra Pandey , Reema Gongal, Muna Shrestha, Sajja Khanal, Jayashree Balarajamani, Ishwar Khatiwada, Ujjawal Shrestha, Prassanna Dhungel, Surya Thapa (GBNC President), Binod Bhattarai, Anju Pradhan, Subarna Shakya, Bharati Gautam , Shakun Himali , Ashwin Ghimire, Sushila Shrestha, Bijaya Pandey, Anup Shiwakoti, Dipti Dhungel, Sheela Manandhar, Mayank Bhattarai.
AUSTRALIA
Help Nepal Network – Australia celebrated the annual Help Nepal International Day in both Sydney and Melbourne in the last week of August and the first week of September respectively .
The programmes in Australia raised over AU$8,500, with Sydney raising AU$5,000 and Melbourne AU$3,500.
In Melbourne , a round 130 people participated in the dinner cum seminar/cultural programme. HeNN documentary left an excellent impression on the participants. There were also Nepalese products on display, which were sold on auction during the function.
Senior Detective Nick Farr of Victoria, who scaled Mount Everest earlier this year, said that organisations like HeNN provided the opportunity to help the disadvantaged communities in Nepal. Graeme Kent of Oz Quest, a non-profit organisation that takes young people abroad for development projects, said he looked forward to working with HeNN. Honorary Consul Simon Hill was also present on the night and spoke very high of HeNN.
Simlarly, in Sydney , a glorious spring day brought together the Nepalese community and Australian supporters of HeNN, including the Honorary Consul General Christine Gee.
The activities planned for the day included:
– Screening of the documentary, Daughters of Everest, by Sapana Sakya and Ramayata Limbu
– Screening of the HeNN documentary on the introduction to HeNN and its projects in Nepal
– An exhibition of project images and write-up
– Collection of donation
– Light refreshments
Tara Shrestha welcomed the guests and this was followed by a few words by the Honorary Consul and Indra Ban. Harsha Gautam presented the annual report and Hari Devkota gave a vote of thanks to all sponsors and well wishers.
IRELAND
HeNN-Ireland celebrated HELP NEPAL International Day-2005 on 31st July. The Ireland team collected around 200 Euros as a donation for HeNN activities.
All the executive committee members of Nepal Ireland Society were also present. They decided to take 'Help Nepal Network' as a channel to support the homeland. After this decision, Nepal Ireland Society will be a supporting backbone for all HeNN-I activities.
Nepal Ireland Society, at present, is the only registered Nepalese society in Ireland that represents around 300 Nepalis living all over the country.
In a related development, HeNN-Ireland Treasurer, Mr. Aanand Kumar, handed over 700 Euros to HeNN-Nepal Treasurer at the HeNN office in Kathmandu . This amount will be used for the Conflict Impacted Children's project.
SWEDEN
HeNN-Sweden celebrated Help Nepal International day on the 24th of September.
Around 20 people participated in the program, which included local Swedish people as well.
The programme included screening of HeNN Documentary, along with the discussion for registration of HeNN-Sweden as a charity organization.
The meeting was successful in collecting 360 Euros.
A representative from Swedish-Nepal Society informed the decision of the society to donate 200 Euros to HeNN annually.
ITALY
HeNN-Italy celebrated Help Nepal International day on 25th of September.
The program was held in the residence of HeNN-Italy President Mr. Suman Dhakal.
The program was attended by around 25 Nepalese residing in Venice . HeNN Documentary and two other documentaries, the Killing Terrances and the Schools in the Crossfire, were also screened.
The participants showed great respect for the works being carried out by HeNN and offered willingness to help in fund raising and other activities.
The program collected 110 Euros from the participants.
RUSSIA
HeNN Chapter of Russia and CIS countries celebrated the Help Nepal International Day on 12 June in a natural surrounding near Moscow city.
Since 12 June is also the Russia Day, it attracted a large crowd of non-resident Nepalis and friends of Nepal . Around 250 people attended the program, which was jointly organized by HeNN Russia , National Coordination Council of NRN Association and Moscow -based Nari Nikunja with one common objective – helping Nepal .
Nepalis in Moscow are well informed that contributions made to HeNN help improve educational and health conditions of most needy children in remote and ignored parts of our country.
Considering remarkable expansion of projects and increased administrative costs of HeNN-Nepal, the Nepali community of Russia has decided to increase its annual contribution from NRs 100,000 to NRs 120,000 (as requested at the recent HeNN International Tele-conference) from 2006.
Nepali friends of HeNN-Russia are informed that this amount will be used to hire a full time employee for Kathmandu office.