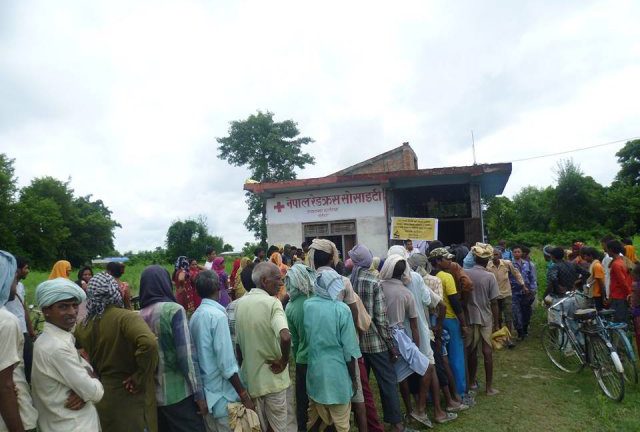 Created Date: September 22, 2014
Author: HeNN
Comment(s): 0
Flood Victims Receive HeNN Support
22 September, 2014 – In coordination with the Nepal Journalist Association, Bardiya, the local administration and the Nepal Red Cross Society, the HELP NEPAL Network (HeNN) has distributed relief materials to the victims of floods in Bardiya district of western Nepal.
The HeNN had despatched 500 packs of relief materials. Each pack contained two big mosquito nets, cooking utensils, mattresses, blankets and bed-sheets enough for a family of five.
The HeNN had mobilized its contributors around the world to lend a hand of support to the people in need for relief in the aftermath of devastating floods and landslides that hit particularly the western part of Nepal during this monsoon.
In order to collect funds to support the victims, an online petition was made by HeNN UK and the Nepal Journalist Association UK through the https://www.justgiving.com/. Many supporters also directly sent their contribution to the HeNN's Kathmandu office.
Till now, over 500 people have made donations. Supports worth over Rs 16 lakh have already been dispatched to some of the worst-affected areas of Bardiya district.
And still, there is over Rs 10 lakh in the account. The HeNN will soon utilize this amount while sending second consignment of relief support. But we urge donors, except those who have already made commitments, to refrain from donating additional amount in the account because it would be impractical to utilize resources to despatch subsequent smaller consignments to faraway places.
The HeNN would like to notify that any amount that remains in the account even after using them in the despatch of second consignment would be utilized in the support for the re-construction of Bansanghu school in Sindhupalchowk district. The school had been swept away in a landslide and the HeNN is helping in re-construction of its building. The HeNN has already collected Rs 10 lakh for this purpose.
According to the government, over 250 people have lost their lives with 250 others still missing due to landslides and floods across the country this year.
HeNN wishes to express its deep sympathy to the people affected and would like to continue to help those in distress as much as it is possible.