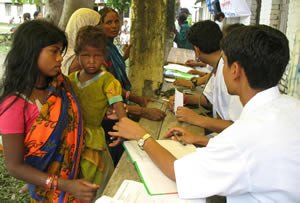 Created Date: July 18, 2008
Author: HeNN
Comment(s): 0
Flood Relief Appeal
The massive flood that hit at least five Village Development Committees in the eastern district of Sunsari in the third week of August 2008 has already displaced over 35,000 people.
Local administration and security agencies are working earnestly to provide immediate relief to the displaced families but they need material support like utensils, plastic sheets and food items to support the victims.
The displaced people also need fuel to boil water and medicines to recover from illness. In order to provide emergency humanitarian assistance, Help Nepal Network has already provided $3,000 to support the flood victims and would like to appeal to all the expatriate Nepalese community and friends of Nepal to support those who need it most.
Please rise to the occasion and momentarily step out of your comfort zone to help the needy back home. No matter how busy we are and how tough our jobs, we have it much easier and comfortable than those who are wet, hungry and sick.
During the flood of 2007, HELP NEPAL Network provided relief material worth over US$10,000 to Nepal Red Cross Society in support of the flood victims in the southern plains of Nepal. The relief material was handed over to Nepal Red Cross officials by the HeNN volunteers on the 12th of September 2007.
Pls visit this link (broken link in original site) for details.
In addition to asking others to contribute, please make a donation yourself however small, because no matter how high your rents or mortgages or credit card bills are, you can still afford to help the needy.
We never feel shy to ask for donations for a good cause. If we believe, others will too. If we act, others will support.