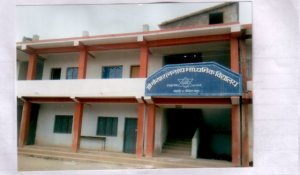 Created Date: July 18, 2014
Author: HeNN
Comment(s): 0
Expansion of Goraksha Ratna Nath Secondary School, Dang
Project:
Expansion of Shree Goraksha Ratna Nath Secondary School
Location:
Ghorahi municipality, ward -4, Dang district
Partners:
HeNN
Local Community
Cost:
NRs 458,976
Time:
2014-2015
Project Description:
Shree Goraksha Ratna Nath Secondary School located in Ghorahi municipality, ward -4, Dang district was established in 1973. There are 726 students and 16 teachers in the school.
Because of large number of students, the existing infrastructure of the school was stretched beyond limit. The school subsequently planned to build additional classrooms but was short of resources. Although it arranged some resources by mobilizing local support, it turned to HeNN for the required additional support.
The HeNN is pleased to be able to provide the assistance amounting to over four and half lakh rupees for the expansion of the school infrastructure. Two classrooms were subsequently built with the support.