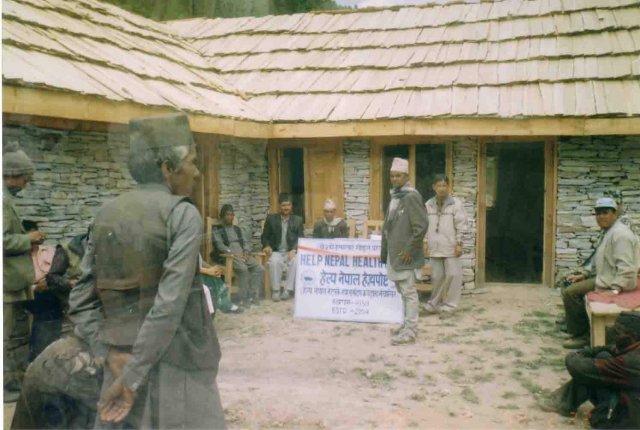 Created Date: July 18, 2012
Author: HeNN
Comment(s): 0
EMF-UK Donates $9,500 Again to Mugu Health Post
The Everest Marathon Fund (EMF) in the UK has again donated US$ 9,500 to support the operational cost of HELP NEPAL Health Post in remote Mugu district.
The EMF (http://www.everestmarathon.org.uk/) has been supporting the health post in Mugu for several years. Since 2006, it has contributed £ 18,000 (around US$ 28,500) which includes the latest donation.
The Everest Marathon is a charity race and one of the main reasons for organising the race is to raise money for various Nepalese charities.
To this purpose, the Everest Marathon Fund was registered as a UK charity (Number 1005422) to promote health and education in rural Nepal.
HELP NEPAL Network constructed the health post at a remote village in one of the most far-flung districts of Nepal in 2004. The total cost of the project came to around US$ 14,000 of which 50% came as an in-kind support from the local community. This included the land, building material and labour costs.
Day to day running of the centre is supervised by the village committee with monthly reports submitted to both the local government as well as HeNN. Apart from the Everest Marathon Fund, various other organisations and individuals have provided support to help run the health post.
Health Care Nepal, a charity based in the USA, has conducted various health camps distributing free-of-cost medicine.
Similarly ,Himal Dental Hopital, Friends of Santa Bhawan and National Fertility Care Centre have helped Assistant Health Worker and Auxiliary Nurse Midwife of the health post to obtain trainings on the dental care and treatment, laboratory procedures and on the reproductive health issues, respectively.
Recently, Save the Children has provided funds to establish a birthing center in the health post along with the essential Safe Birth Attendant (SBA) training.
Abhaya Shrestha, the President of HELP NEPAL Network USA, visited the health post in 2011 and wrote an article in the Nepali Times, a well respected English weekly published from Kathmandu, about Birkha Bahadur Rokaya, who was instrumental in establishing the health post.
You can read Shrestha's article by following this link: Click here