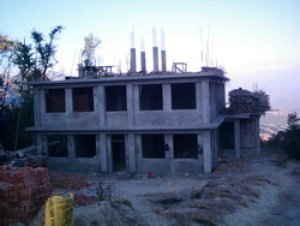 Created Date: July 18, 2010
Author: HeNN
Comment(s): 0
Construction of Shelter for Children
HELP NEPAL Network, despite its meager resources, is currently undertaking a massive project of constructing a shelter for over 50 Conflict Impacted Children (CIC) in Nepal at the cost of around US$150,000.
HeNN was inspired in the project by an unwavering desire of Nepal Balbalika Trust (NBT), a UK-registered charity, to help the Conflict Impacted Children in a country which witnessed a decade-long Maoist insurgency leaving thousands of children in vulnerable conditions.
The NBT Chairman, Oz Bayldon, a musician by profession, organised the World's Longest Gig in London (Hyperlink Here) and then in late 2005 World's Highest Gig just above the base camp of the Mount Everest to raise funds for the project.
The help of HeNN volunteers in Kathmandu has been tremendous in the construction of the shelter, however, they were amazed when a British national, Garry Goddard, spent three month in late 2007 with the community in Dhulikhel working everyday in the construction site.
How can you help?
We are now looking for sponsors of the first twenty children who will take residence in the Shelter through our Bhai-Bahini (Brother-Sister) programme. If you can commit US$1,200/annum for the long-term benefit of one of the children, please contact us admin@helpnepal.net
The cost of the sponsorship is calculated on the basis of shelter's total running cost, which is divided by the total number of children (50). The cost includes food, lodging, education and health care facilities.