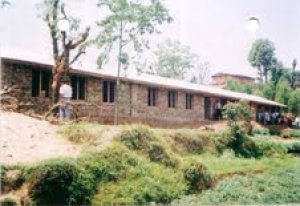 Created Date: July 18, 2008
Author: HeNN
Comment(s): 0
Building Construction of Jeevan Jyoti LS School, Gorkha
PROJECT:
Construction of School Building of Jeevan Jyoti Lower Secondary School
LOCATION:
Hansapur-5, Kaphal Danda, Gorkha
PARTNER:
School Management Committee
Hansapur Village Development Committee
COST:
(Exchange rate: US$ 1 = NRs 63.11)
Village Development Committee USD 2,376.80
HELP NEPAL Network USD 5,545.87
Others USD 950.72
TIME:
March 2010
PROJECT DESCRIPTION:
Jeevan Jyoti Lower Secondary School was established in 1954 as a primary school which was upgraded to lower secondary school in 1997.
The school got the permission to upgrade to secondary level in 2008. The school was running in a worn off building with around 2,000 students. As the school was too congested, it desperately wanted to add new classrooms.
The assistance from HeNN and various other sources made the school possible to add an entirely new building in the school premises.
Local people volunteered labour and provided various kinds of support.