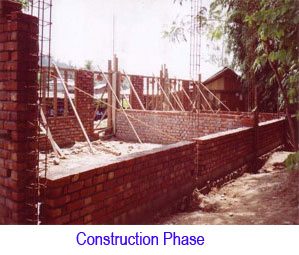 Created Date: July 18, 2005
Author: HeNN
Comment(s): 0
Construction of Rana Devi School, Sunsari
PROJECT:
Construction of Rana Devi Primary School.
LOCATION:
Panchkanya Village Development Committee, Ward No-1, Sunsari District, Koshi Zone.
PARTNER:
Panchakanya Village Development Community
Local villagers
Chances for Children, UK-based Charity
COST:
HeNN contribution: US$3,136
Chances for Children: US$1,853
Local Funds: US$5,439
TIME:
2006
PROJECT DESCRIPTION:
The school lies at the meeting point of the hills with the southern plains (Terai). It was constructed from bamboo (tati) and tins 7 years ago. It is habitually flooded during the rainy season. The project was brought to the attention of HeNN by a former pupil at the school, Mr Narayan Ruwali.
Mr Ruwali said, "When the building is completed, there will be an innocent smile in the children in their first day while entering the classroom. My imploration is just up to this. I can see my childhood reflected in their face."