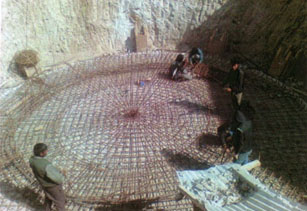 Created Date: July 19, 2012
Author: HeNN
Comment(s): 0
Construction of Overhead Water Storage Tank, Kavre
PROJECT:
Support for Overhead Water Storage Tank Construction
LOCATION:
Dhulikhel
PARTNERS:
Help Nepal Network
Local Consumer Group
COST:
HeNN contribution £ 2514.25
TIME:
January 2012
PROJECT DESCRIPTION:
The Dhulikhel Drinking Water Supply System was constructed with the financial assistance of the German government in 1994.
Out of 9 wards under Dhulikhel Municipality, this water supply system has been supplying water to all the residents of ward no 2, 3 ,4 and 5 only and partially to residents of ward no 1 and 6. But the people of ward no 7, 8 and 9 were completely deprived of clean drinking water. They had been depending on traditional wells and small spring sources.
The water is, however, not sufficient to meet the demand of existing population and also poses public health threat as the sources are getting polluted because of the growing population.
Hence, the construction of an Overhead Water Storage Tank at ward no 7 with the capacity of 300 cubic meters was felt necessary by the local community.
Out of the total estimated construction cost of NRs nine million, HeNN provided the support of NRs 300,000 (£2514.25) to the project. The cheque was handed over by Maha Jodi to the representatives of local consumer group at a formal handover program organized at the HeNN office in Kathmandu on 26 July 2011. The construction project was completed in 2012.