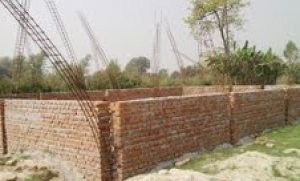 Created Date: July 19, 2009
Author: HeNN
Comment(s): 0
Construction of HELP NEPAL Health Post, Sarlahi
PROJECT:
Construction of HELP NEPAL Health Post, Sarlahi
LOCATION:
Haripurwa, Sarlahi
PARTNER:
Anand Community Development Committee
COST:
HeNN contribution US$ 18, 290
Community contribution US$ 10, 068
Total cost US$ 28, 539
TIME:
June 2009
PROJECT DESCRIPTION:
Haripurwa Village Development Committee is a relatively big village which has total population of around 13,000 according to the national census of 2001. However, Haripurwa did not have a health centre.
The villagers had to walk long hours to the district hospital in Malangwa even for minor treatments and check ups.
Ananda Community Development Committee, a social service organization requested HeNN's help in establishment of a permanent health post in Haripurwa.
The Committee has expressed its full commitment in operating and managing the health post.
Apart from constructing the health post, they have requested HeNN to provide basic medical equipment, some medicines and a year's salary for a health worker. After that, HeNN will not have to support the health post with regular supplies of medicines, equipment and staff salaries.
HeNN has already provided US$ 8,571.43 in two phases. The remaining commitment will be provided in two more phases as the work on the health post progresses.