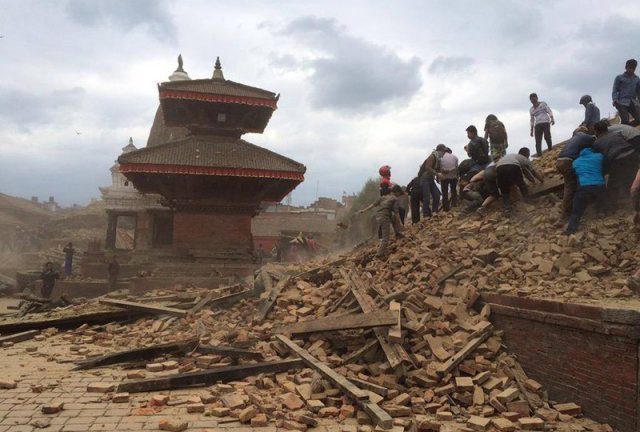 Created Date: June 28, 2015
Author: HeNN
Comment(s): 0
Concert at the Royal Albert Hall in Aid of Earthquake Survivors
Nepali Musical Concert at the Royal Albert Hall
On the evening of 28th June, 2015, over 2,000 Nepalese and friends of Nepal attended the first-ever Nepali Musical Concert at the world-renowned Royal Albert Hall in London.
HELP NEPAL Network (HeNN), a UK-registered charity—had organised the concert "An Evening for Gorkha" in aid of the earthquake survivors of Nepal.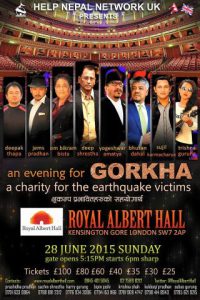 Senior and well-known Nepali singers including Deep Shrestha, Om Bikram Bista, Yogeshwar Amatya, Dipak Thapa Magar, Jems Pradhan, Sujil Karmacharya and Trishna Gurung performed at the Concert. A 17-member strong Nepali band had travelled from Nepal to perform at the Royal Albert Hall.
Gorkha was the epicentre of the 7.8 magnitude earthquake that hit Nepal on 25th of April 2015. Nearly 9,000 people have died and thousands of others have been injured. Over 500,000 homes including schools and health centres have been destroyed due to the earthquake.
"We would like to express our sincere gratitude to the Nepali artiste team that arrived from Kathmandu, sponsors, advertisers. HeNN friends, well-wishers and, of course, fantastic audience who made the show a great success," said Dr Pranab Gyawali, Chairman of the Help Nepal Network UK chapter. "We look forward to similar support from all of you in the future as well," he added.
HELP NEPAL Network (www.helpnepal.net) was in the forefront of providing relief to the earthquake survivors. HeNN volunteers travelled to Gorkha, Sindhupalchok, Dolakha and other districts with lifesaving medicines, tents, food and other essential items.
"We are proud to reach out to affected Nepalese communities during this time of an unprecedented national emergency," said Arun Singh Basnet, chair of the Help Nepal Network Nepal chapter, who coordinated the relief works in Kathmandu, despite being injured himself.
Established in 1999, HELP NEPAL Network has been running a children's home in Dhulikhel, a health post in remote district of Mugu, constructed several classrooms and e-libraries in different parts of the country. It collects donations largely from the Nepalese diaspora around the world under the theme "One dollar/ a pound a month fund for Nepal."