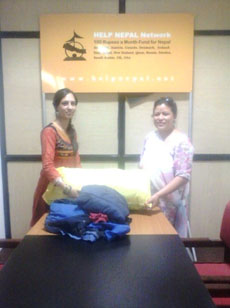 Created Date: July 19, 2011
Author: HeNN
Comment(s): 0
Donation to Children Care Club, Kathmandu
Project:
Clothes Donation to Children Care Club
Location:
Dhapasi, Kathmandu
Partners:
HeNN
Goalnepal.com.np
Time:
March, 2011
Project Description:
One small sack of clothes was handed over to Children Care Club on 14 March 2011. The clothes were donated to HeNN by the GoalNepal.com.
Children Care Club situated in Dhapasi, Kathmandu has been working in the field of education and health of Orphan, Underprivileged, Poor and Conflict Impacted Children since its establishment in 2006.
This support will benefit around 12 children being taken care of by the Club.