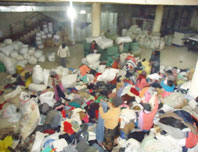 Created Date: July 19, 2012
Author: HeNN
Comment(s): 0
Clothes Distribution Campaign, Rautahat and Mahottari
Project:
Clothes Distribution Campaign in Rautahat and Mahottari
Location:
Rautahat, Mahottari
Partners:
HeNN
ECS media
Shikhar Shoe Company
Sano Paila
Cost:
NRs 6, 37, 777
Time:
January 2012
Project Description:
Clothes distribution campaign for Terai people was a huge success. The collection was done at Help Nepal Network office, Chabahil and ECS media, Kupondole.
We collected around 18000 pieces of clothes. Eight people were hired at HeNN office based on daily wages to sort out the wearable and old clothes.
Shikhar Shoe Company donated 55 pair of shoes.
With the donation of NRs 290,000.00 received from Nepalese living abroad and 300,000.00 from Help Nepal Network, 1,350 new blankets and ladies shawl along with 1,050 woolen mufflers and 1,170 woolen caps were bought.
Total 365 bundle of sacks and boxes were collected and sent to Birgunj. HeNN in coordination with Sano Paila, an organization based in Birgunj further distributed the clothes in Rautahat and Mahottari.