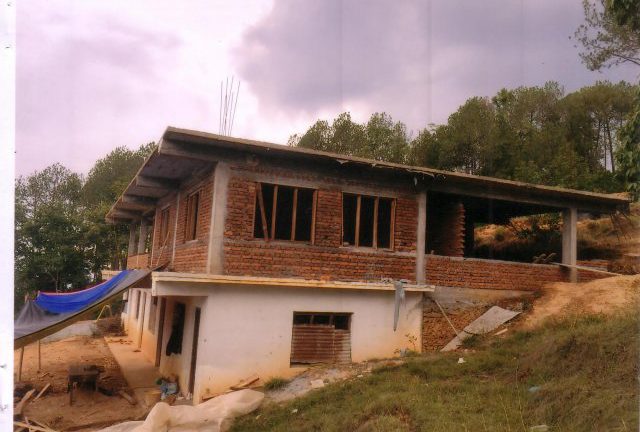 Created Date: July 18, 2017
Author: HeNN
Comment(s): 0
Classroom construction at Thokarpa Multiple Campus, Sindhupalchowk
Project: Construction of eight classrooms at Thokarpa Community Multiple Campus
Location: Thokarpa-4, Sindhupalchowk
Date: November 2016 – December 2017
Cost: NRs. 7,00,000/- (Seven lakh rupees only)
Thokarpa Community Multiple Campus was established in 2009 with the coordination of the local District Development Committee (DDC) and Village Development Committee (VDC). Since receiving affiliation from Tribhuwan University in 2009, 103 students have graduated from the college with Bachelor's degree in either education or management.
The catchment area of the campus includes five VDCs in Sindhupalchowk (Thokarpa, Kalika, Yamunadada, Sunkhani and Lisankhu) and five VDCs in Kavre (Saping, Chaubas, Bekhsimle, Simthali and Sanobangthali).
Thokarpa Community Multiple Campus has been using physical infrastructure belonging to Baag Bhairab Secondary School. The construction of a new college building has only recently begun.
A concrete block with 67 by 14 feet ground floor and 67 by 20 feet first floor was constructed with a financial support of NRs. 35,00,000/- (Thirty-five lakh rupees only) from University Grants Commission.
The school approached HELP NEPAL Network for financial support to complete the construction of eight classrooms on the first floor and the project is currently ongoing. The first installment report was received in May 2017.
According to the report, all construction materials (sand, chips, and bricks) have already been transported to the construction site. The responsibility of workers' supervision and management has been delegated to the campus chief and the college coordinator is responsible for overseeing construction. Wall construction and plasterwork on the first floor was completed during the first phase. The project is currently in its final phase. T
The project directly benefits 134 students (114 girls and 20 boys) currently studying in the college.