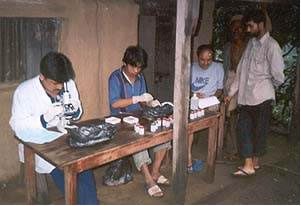 Created Date: July 19, 2000
Author: HeNN
Comment(s): 0
Chepang De-worming Camp, Chitwan
PROJECT:
De-worming programme for Chepangs.
LOCATION:
Chitwan
PARTNER:
Public Health Concern Trust (PheCT), Kathmandu
COST:
HeNN contribution: £500
PheCT contribution: £500
TIME:
April 2000
PROJECT DESCRIPTION:
Chepangs in Citwan district are amongst the most disadvantaged communities in Nepal.
The Public Health Concern Trust in Kathmandu sent a team to run the health camp. Children were screened for stomach worms and necessary medication provided where needed. One of the patients had 64 worms in his stomach.