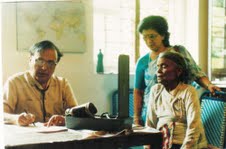 Created Date: July 19, 2008
Author: HeNN
Comment(s): 0
Building Construction of Elderly People's Service Centre, Lalitpur
PROJECT:
Construction of Shanti Ashram Elderly People's Service Centre
LOCATION:
Bungmati, Lalitpur
PARTNER:
Shanti Ashram Management Committee
COST:
HeNN contribution: US$ 4,285
TIME:
August 2008
PROJECT DESCRIPTION:
Shanti Ashram had been running an Old Age Service Center for the past 10 years. In order to maintain the service, a separate space had been absolutely necessary.
Triratna Cooperative School had been supporting the Asram by providing one of its rooms and its premises to provide health services. But Shanti Ashram had been wanting to construct a small building of its own for which HeNN provided US$ 4,285.
The support was provided in two phases. After the construction of the building, Shanti Ashram said it could now focus on providing better care for the elderly, especially those who are helpless.