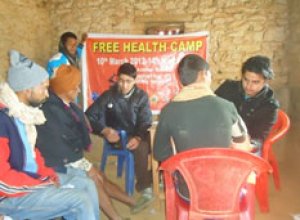 Created Date: July 19, 2013
Author: HeNN
Comment(s): 0
Five-Day Health Camp, Achham
Project:
5-Day Free Health Camp in Achham
Location:
Toshi VDC in Achham
Partners:
HeNN
Shree Tripurasundari Samajik Bikash Kendra
Universities Allied for Essential Medicines
Ayur Poly Clinic, Patan
Cost:
NRs 706889
Time:
March 10 to March 14, 2012
Project Description:
Five Day Free Health Camp was organized from March 10 to March 14, 2012 in Toshi VDC of Achham.
The program was coordinated by the local Community Based Organization "Shree Tripurasundari Samajik Bikash Kendra" and technical support was facilitated by Universities Allied for Essential Medicines and Ayur Poly Clinic, Patan.
A team of 10 members including eight doctors had visited Achham for the purpose. The camp offered general checkup, Eye, Dental, Gynecology, Pediatric and Free medicine distribution. Patients visited from different VDCs of Achham district.
Besides the health camp and medicines distribution, training for the local health workers, FCHVs and ANMs was also organized in the place.
This program was led by Dr Aruna Uprety, a senior doctor on public health. About 20 volunteers and others from the local organization had volunteered in the camp.
A total of 4,000 patients visited the camp and got the treatment.